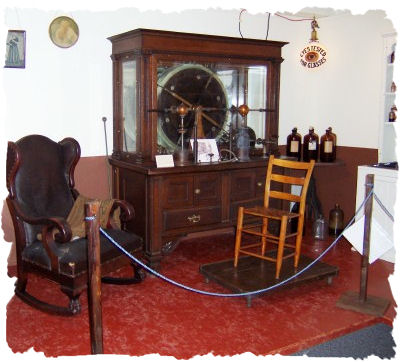 A permanent display of the circa 1930 home and office of Dr. Joseph Hornback
The Hornback exhibit is a series of rooms recreating the home and office of Dr. Joseph T Hornback, a physician who practiced in Nevada from 1908 through 1934, when he suffered a cerebral hemorrhage. He died four years later.
When the last surviving member of the Hornback family, Dr. Hope Hornback, passed away in 2005, he gave the house and its contents to the Vernon County Historical Society.
The house, built in 1896, was in such poor condition that it had to be razed, but huge quantities of clothing, furniture, books, jewelry, medical equipment, dishes and other artifacts were saved. Those were used to replicate Dr. Hornback's office and several rooms of the original house within the Bushwhacker Museum.
Visiting the Hornback exhibit is like stepping back in time. You can picture yourself listening to records in the parlor, sleeping in the old iron bed under a patchwork quilt, or enjoying a delicious family meal at the graciously appointed dining room table. It is small town America at its best.